ACTUALIZADO 2/12/2018 39
---
Nest Pro Cam Indoor Security Camera NC1103US
$11700
24/7 Live Video Streaming
The Nest Cam can be controlled from anywhere. Not only are motion and sound alerts available through phone monitoring, but the full 1080p HD live feed can be streamed as well.
Super Security
Security videos should remain private. That's why Nest Cam is designed to keep data safe from prying eyes.
Sight and Sound
See the whole room at night with night vision done right. Unlike other security cameras, the Nest Cam offers a full night Vision view-not just a limited spotlight, while also offering a Talk and Listen function. Not only can the owner hear what's going on in the video, but there is an option to talk back and get someone's attention if needed.
Quick & Easy Setup
Installations have never been easier. Just plug in the Nest cam and download the Nest app to get started. No hub needed.
Nest
Nest loves home. It's the best place in the world. But not everything inside our homes is lovable. There are things that beep at us; fail without warning; keep us in the dark. There are things we've learned to ignore. Nest believes they should do more and is focused on making simple, human, delightful things. They're working to help create thoughtful homes: homes that take care of the people inside it and the world around it.

---
Nest Cam Outdoor Security Camera NC2100ES
$12500
​1920 x 1080 Resolution at 30 fps
8 IR LEDs for Night Vision
130° Diagonal Field of View
Two-Way Audio with Built-In Mic/Speaker
H.264 Compression
Adjustable Magnetic Mount Included
Nest Aware Cloud Storage Free Trial
Mobile Viewing via Nest App
Wi-Fi Connectivity
IP65-Rated for Outdoor Use ---
Nest Cam IQ Indoor Security Camera NC3100US
$14850
· 1920 x 1080 Resolution at 30 fps
· IR Cut Filter & IR LEDs for Night Vision
· 130° Diagonal Field of View
· 3-Microphone Array and Built-In Speaker
· Noise and Echo Suppression
· High Dynamic Range (HDR)
· Wi-Fi and Bluetooth (BLE) Connectivity
· Mobile Viewing via Nest App
Monitor the inside of your home with the Nest Cam IQ Indoor Security Camera from Nest. The camera features an 8MP 1/2.5" sensor to capture 1080p video at up to 30 fps. Able to produce clear images at night thanks to an IR cut filter and eight 940nm IR LEDs, this camera connects to your home network via 2.4 or 5 GHz Wi-Fi to transmit footage. Use the free Nest app for iOS and Android devices or log in from a computer to view live video. Talk and listen to visitors right from the app with the camera's 3-microphone array and built-in speaker. The microphones feature noise and echo suppression to help deliver clear sound when speaking to visitors.
The camera's wide-angle 130° diagonal field of view allows you to monitor large outdoor areas and H.264 compression helps to ensure high-quality recording and playback. HDR provides added clarity to enhance and generate more accurate images. The included power adapter is designed to provide constant, 24/7 monitoring without having to worry about charging or replacing batteries.
Note: A Nest Aware service plan is required to save recorded video and is available separately through Nest.
8MP 1/2.5" sensor captures 1920 x 1080 resolution video at up to 30 fps
Eight IR LEDs allow the camera to produce clear images at night
130° diagonal field of view and 12x digital zoom and enhanced close-up tracking view
3-microphone array and built-in speaker for two-way communication
Supersight technology for clearer images
Familiar face alerts and person alerts with Nest Aware (service plan required)
Noise and echo suppression
LED light ring and status light
Connects via Wi-Fi for a cleaner setup
Free Nest app for mobile viewing and control from iOS and Android devices with Nest Aware (available separately)
---
Nest Learning Thermostat (3rd Generation)
$14050
The brighter way to save energy.
Meet the 3rd gen Nest Learning Thermostat. It's slimmer and sleeker with a bigger, sharper display. And it saves energy. That's the most beautiful part.
It lights up when you walk in the room.
Now the Nest Thermostat does something new. It's called Farsight and it lights up to show you the temperature you've set or the time. You can even choose a digital or analog clock face. Farsight is big and bright on the beautiful display – you can see it from across the room.
Wherever you go, you're home.
The babysitter calls to say she picked up the kids from soccer and they're heading home. You adjust the temperature from your phone so they'll be cozy.
See how much you saved.
Nest shows you how much energy you use every day in Energy History and every month in your Home Report. So you can see when you use more energy, like on weekends or Monday nights, and how to use less.
Know your home is safe.
The Nest Thermostat is just one part of your heating and cooling system. But it can keep an eye on the rest of it. You'll get an alert on your phone if there's something wrong – like temperatures are so low your pipes could burst. And if it looks like your furnace is acting up, the Nest Thermostat will send you an alert.
---
Nest Learning Thermostat E T4001ES
$9750
Easy is smart business.
The Nest Thermostat E makes it easy to save energy. And it works with most 24V heating and cooling systems, so it's easy for you to install.
Nest Thermostat E comes with proven energy-saving features and a simple schedule your customers can adjust easily. Its frosted display blends into the background. And with the Nest app, they can change the temperature from anywhere.
Easy to control -Customers can change the termperature with the Nest app.
Easy to save - Same proven energy-saving features as the Nest Learning Thermostat.
Know when something is wrong - Nest can send remote alerts if a system needs attention.
Voice control - Adjust the temperature with voice-activated Google Assistant or Amazon Alexa.
Simple design - The frosted display blends into any home.
Warranty - 3 Years when installed with a Nest Pro ID.
In the box:
Display
Base
Optional trim plate
Mounting screws and labels
Installation Guide
Pro installer card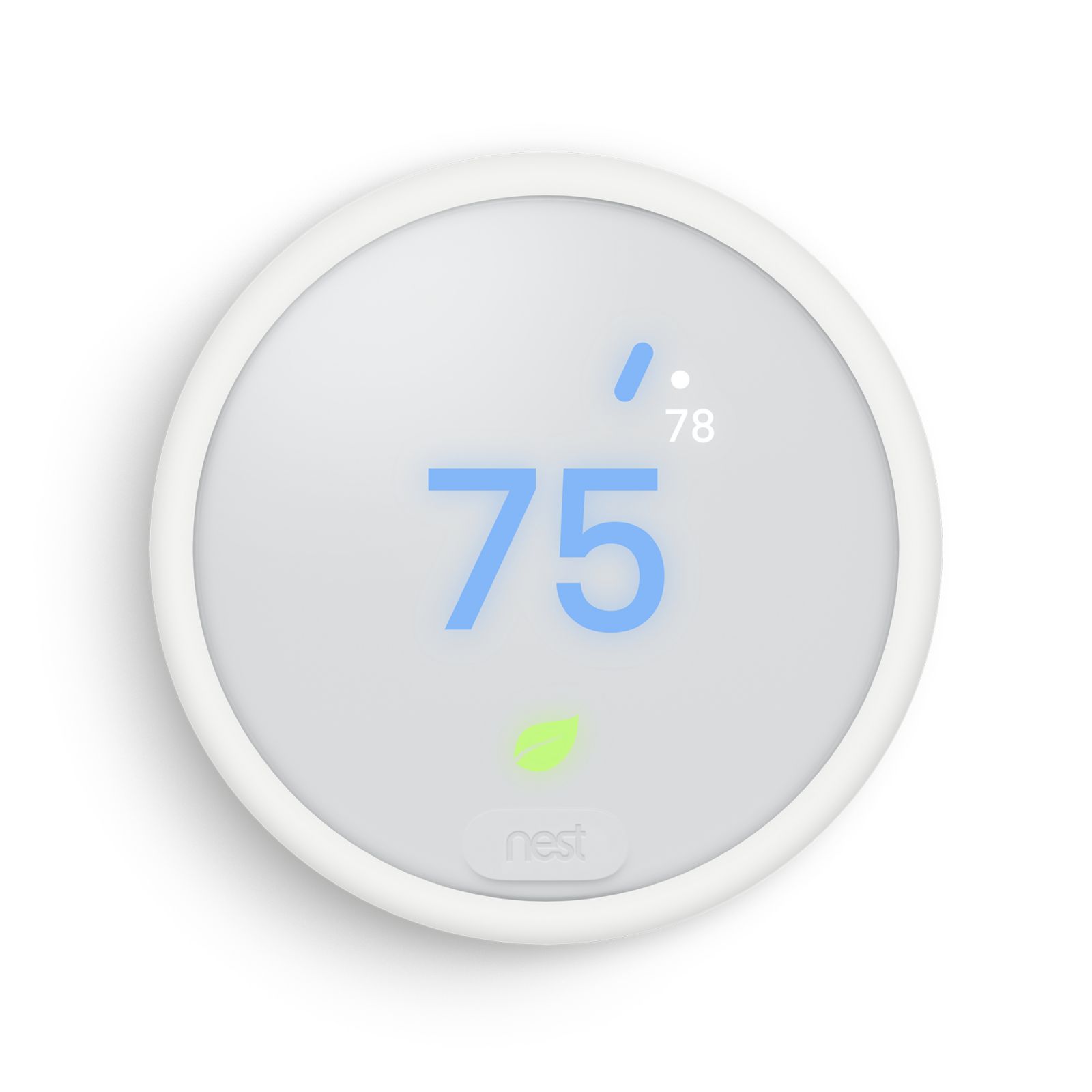 ---
Nest Hello Video Doorbell NC5100US
$12000
Video Doorbell to Monitor Front Door
1600 x 1200 Resolution at up to 30 fps
Night Vision Functionality
160° Diagonal Field of View
Dual-Band Wi-Fi Connectivity
Two-Way Audio Communication
Noise and Echo Cancellation
H.264 Video Compression
Free Nest App
IPX4-Rated for Water Resistance
​
---
​