ACTUALIZADO 4/12/2018 37
---

SONOS CONNECT Wireless Streaming Music Stereo Receiver Component
$22200
• Turns your stereo or home theater into a music streaming Sonos system
• Wirelessly play your own music, online music services and Internet radio and expand by adding Sonos to any room in your home
• Powerful wireless network delivers HiFi sound without dropouts
• Connects to stereo receiver via optical or RCA cable
• Sonos App on your smartphone, tablet or PC gives you control of all your music in one place
---

SONOS CONNECT:AMP Wireless Streaming Music System with Amplifier for Speakers (ZonePlayer120)
$29600
• Turns your stereo or home theater into a music streaming Sonos system
• Wirelessly play your own music, online music services and Internet radio and expand by adding Sonos to any room in your home
• Powerful wireless network delivers HiFi sound without dropouts
• Connects to stereo receiver via optical or RCA cable
• Sonos App on your smartphone, tablet or PC gives you control of all your music in one place
---

SONOS BOOST for Sonos Wireless Network
$6290
• Not required to set up your Sonos wireless speaker
• Provides a solution for homes where Wi-Fi doesn't reach all rooms
• Plugs into your Wi-Fi router to create a dedicated wireless network for your Sonos system
• Offers twice the power as BRIDGE, with broadcast power comparable to enterprise-grade Wi-Fi routers
• Allows you to create 3.1 and 5.1 home theater solutions by pairing PLAYBAR with SUB and PLAY:1 or PLAY:3 rear speakers
---

SONOS PLAY 1 Compact Wireless Speaker for Streaming Music
$13320
• Delivers deep, crystal clear HiFi sound without dropouts
• Humidity resistant to operate flawlessly even in the bathroom
• Play:1 streams music directly from your iTunes library, online music services and free Internet radio
• Start with one, then wirelessly expand with more to any room in your home
• Sonos App on your smartphone, tablet or PC gives you control of all your music in one place
---

SONOS PLAY Wall Bracket for PLAY:1 SONOS Speakers, Pair, (FLEXSON AAV-FLXP1WB2021) Black / White
$4810 el par
• Designed and built in Britain by SONOS users for SONOS users.
• Made from superior quality steel and allow for neat cable routing, easy fitting and flexible placement.
• Precision engineered to match size, style and colors of the new SONOS speakers.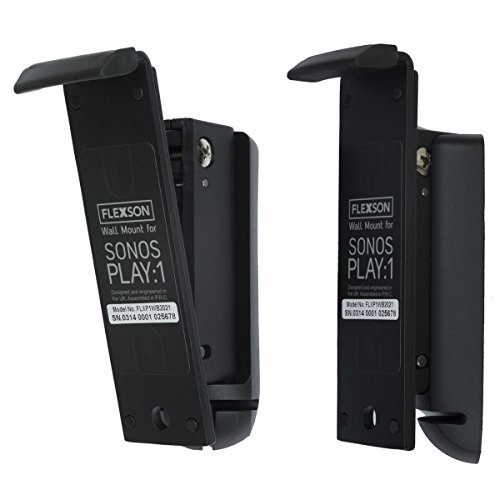 ---

SONOS ONE with Amazon Alexa built-in
WHITE / BLACK
$15730
The Smart Speaker for Music Lovers
Start and control your music with your voice. Amazon Alexa built right in.
Play songs, check news and traffic, control your smart home and enjoy all those other helpful Amazon Alexa skills using a single Sonos speaker.
Ask Alexa to play music from Amazon Music, Spotify, Pandora, iHeartRadio, TuneIn and SiriusXM. Listen to hundreds of other streaming services with the Sonos app.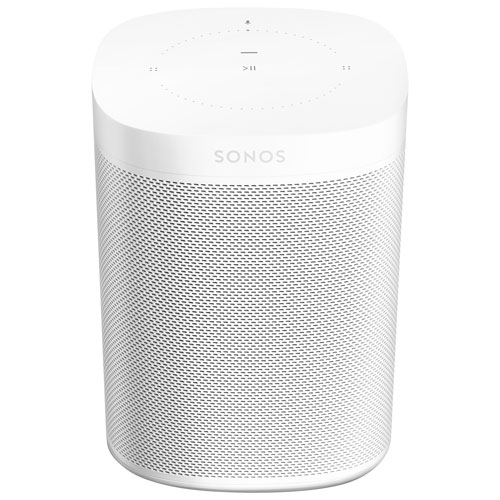 ---
SONOS PLAY 3 Wireless Speaker for Streaming Music (Small)
$20350
• The most versatile Sonos speaker with 3 custom drivers and dedicated amps for rich, room-filling sound at any volume
• Wireless speaker streams music directly from your iTunes library, online music services and free Internet radio
• Powerful wireless network delivers HiFi sound without dropouts
• Start with one, then wirelessly expand with more to any room in your home
• Sonos App on your smartphone, tablet or PC gives you control of all your music in one place
---

FLEXSON FLXP1WB1021 Wall Mount for Sonos PLAY:1 (Black)
$3150 x unidad
Tilt and Swivel Design
Ceiling Compatible
For Use with the Sonos PLAY:1
---

FLEXSON FLXP1WB1011 Wall Mount for Sonos PLAY:1 (Blanco)
$3150 x unidad
Tilt and Swivel Design
Ceiling Compatible
For Use with the Sonos PLAY:1
---

Sonos PLAY 5 generation 2 Smart Wireless Speaker
Black / White
$35150
•Stream from Most Online Music Services
•Stream 1000s of Internet Radio Stations
•Stream Your Entire Digital Music Library
•Connect via Ethernet or Wi-Fi
•Wirelessly Add Additional Sonos Speakers
•Control with Phone, Tablet, or Computer
•Six Drivers with Dedicated Amps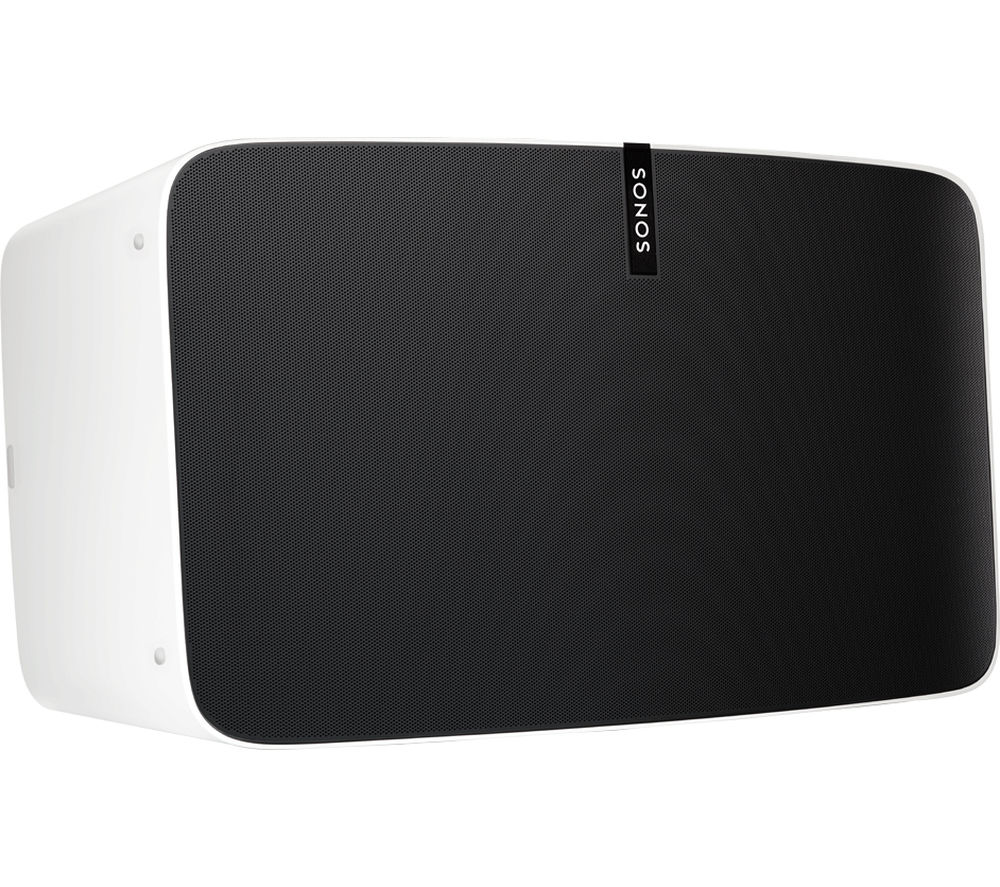 ---

SONOS SUB WHITE / BLACK
$55500
• Fills any room with deep, clear HiFi sound
• Wireless, one-button setup
• Seamlessly integrates with the Sonos System
• Two force-cancelling speakers positioned face-to-face offer deep sound with zero cabinet buzz or rattle
• Place it anywhere in the room—even lying flat under a couch
• Works with all Sonos amplified components: CONNECT:AMP; PLAY:5; PLAY:3; PLAY:1; PLAYBAR.
---

SONOS PLAYBAR TV
$55500
Complements HD television screens with richly textured HiFi sound.Wirelessly streams all the music on earth.Simple to set up, control and expand. Requires just two cords: one power cord, one optical cord (both included). Syncs with other Sonos speakers wirelessly.Understands and speaks most IR remote's language and can be controlled by free apps for your Android®, iPhone® or iPad®.
---

SONOS Wall Mount for PLAYBAR Soundbar (PTRB-220092647)
$5550
• Makes PLAYBAR easy to install to any wall with pegs in precisely the right place.
• Ensures a secure and rattle-free wall-mount installation.
• Allow for placement horizontally above or below your TV
---
SONOS PLAYBASE Widescreen sound and music streaming for TVs on stands and furniture.
$46620

Two-in-one. Full-theater sound for your TV. Streams music, too.
Low profile design that practically disappears. Sound you just can't miss.
Securely supports TVs up to 77 lbs (35 kg).
Simple two-cord setup. One for power, one for your TV.
Add SUB and two PLAY:1 rears for wireless 5.1 surround sound.
---
FLEXSON FLXP1CM1011 Ceiling Mount for One SONOS PLAY:1 Speaker (White)
$4810
FLEXSON FLXP1CM2011 Ceiling Mount for Two SONOS PLAY:1 Speakers (White)
$7030
FLEXSON FLXP1FS2011 Floorstands for Sonos PLAY:1 (Pair, White)
Mounted Height: 820 mm
$8140
FLEXSON FLXP1AS2011 Adjustable Floorstands for Sonos PLAY:1 (Pair, White)
Height Adjustable From 6,35 to 110 cm
$8510
FLEXSON AAV-FLXP3WB1011 Wall Bracket for SONOS PLAY:3 Speakers, Single, White
$3515
FLEXSON FLXP3WB1021 Wall Mount for Sonos PLAY:3 (Black)
$3515 x unidad
FLEXSON FLXP3WB1021 Wall Mount for Sonos PLAY:3 (Blanco)
$3515 x unidad
FLEXSON FLXP3CM1011 Ceiling Mount for Sonos PLAY:3 (White) Pair
$7770
---